Export: Easy Invert allows you to save your data. During the export, it saves the following data to a file with a .wei (WinTools Easy Invert) extension:
Software items
Window items
Custom color filters
Background panel themes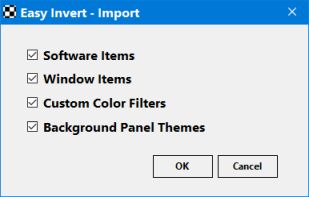 Import: During the import, you can choose which data you want to use based on the contents of the .wei file:
You can select software items and window items only if they contain an item that is not in your current data. If you select them, new items will be added to your current data.
Custom color filters and background panel themes overwrite the current settings when selected.