The colors that can be set with CCP are displayed in three columns. This layout was developed when the first version of CCP was released. The first column contains the colors associated with texts. The grouping of items in the second and third columns aligns with older versions of Win10. The second column contains the items that are more likely to be changed.
Search results
After startup, the colors read from the registry are displayed. Each color can be changed. After making the necessary changes, you can validate the operation with the "Apply [Now]" or "Apply [Log Off]" buttons.
"Apply [Log Off]" - CCP records the current colors in the registry and requests you to log out. The colors corresponding to the new settings will appear after logging in again.
"Apply [Now]" will immediately display the colors corresponding to the current settings.
The search is based on the following data:
Registry name: ButtonDkShadow
Windows name: ThreeDDarkShadow
WinAPI name: COLOR_3DDKSHADOW
WinApi index: 21
RGB color [hex]: #696969
RGB color [dec]: 105, 105, 105
You can also search by an image on the Clipboard. The image size is max. 1,000,000 pixels, the max. number of colors is 1,000.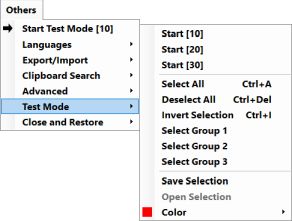 Test Mode
"Test Mode" assigns the set test color to the selected items for a short time. This can help you explore the color adjustment capabilities of each software. You can also exit "Test Mode" using the system tray icon.