Classic Color Panel is a utility software which is used for changing the color settings of the system-level display of Windows. The idea came up because Microsoft has strongly limited the Windows 10 options which allow to change the color of image elements (windows, buttons, controls etc.).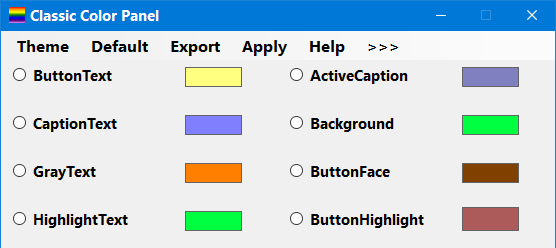 The functionality of Classic Color Panel is based on the fact that newer Windows versions include the settings of their predecessors from a compatibility point of view. A user cannot access these at the settings level. The operating system and certain programs can also manage these for compatibility reasons. Classic Color Panel is an option with a clear interface for the color settings which are not available to users.
Unfortunately, the settings of Classic Color Panel do not always have an impact on the actually displayed image elements. The result depends on the specific Windows version and its settings. Application programs use different display techniques too, which is the reason why their display can be different from the system settings.
Classic Color Panel works really well on Win7 with the "Windows Classic" theme. When choosing another desktop theme and on Windows 10 not all settings have effect anymore. However, with the proper settings of Classic Color Panel everyone can enhance the display of the operating system they use. Classic Color Panel used in combination with Advanced System Font Changer can significantly improve the user experience.
When first started, Classic Color Panel offers a backup option. It is strongly recommended to create this backup. In the first column of the program the color of text elements can be changed. In the second column there are other color settings. The third column can be displayed or hidden according to the choice made in the menu. This is where the options which work only on Windows 7 are shown.
After setting the elements, they can be applied with the Apply button. Classic Color Panel offers the Log Off option. The Default button loads the default values defined by the program. Export saves the applicable settings.
Classic Color Panel works on Windows 7/8/10 operating systems, it requires no installation, it is free to use.