The Scheduler has two operational modes:
When you start URL blocker, it creates the current hosts file based on the Scheduler settings and no further scheduled events occur [Scheduler 1]
When you start URL Blocker, it starts the Scheduler, which continuously creates the current hosts file based on your settings [Scheduler Start]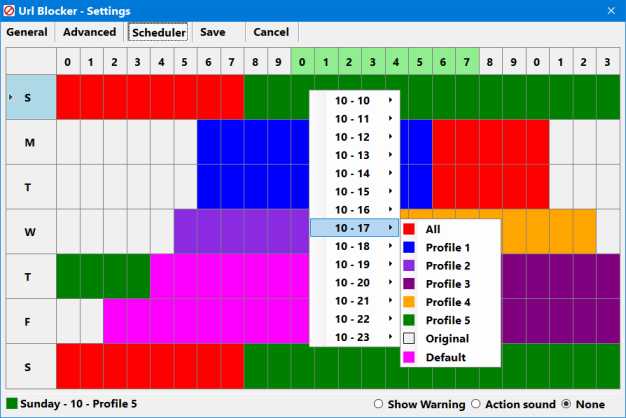 Of course, during the operation of the Scheduler, the hosts file is only actually created if the settings justify it. The start of the Scheduler can be overridden in the "Apply" menu. This setting will only apply to the current session.
If you enable the Scheduler, note that some software (such as web browsers) use their own DNS cache. You will find related information on this page.
The Scheduler can be started based on the "Start Mode" setting. The Scheduler settings are available in "Settings > Scheduler". You can assign events to every hour of every day of the week. If you select "Show Warning", you can customize the information displayed in "Windows 10 Settings > System > Notifications & actions".
The Scheduler settings can be saved or loaded from the "Others > Advanced" menu.