It allows you to set the space between desktop icons. It treats vertical and horizontal spacing separately. You don't have to restart the PC to apply changes.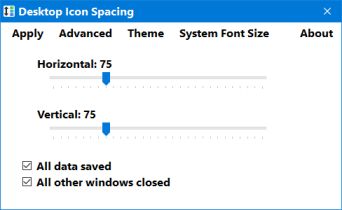 Desktop Icon Spacing is part of the system font changer software family. Software startup and recovery options are the same as in other software in the family.
Before adjusting the settings, you should close any other windows and save workflow data, as the software restarts the explorer process to apply the settings. It stores current settings. When you start your computer, the previously used settings are applied. You only need to run the software if you want to change current settings. After you run it, the arrangement of icons usually changes.
If the explorer process doesn't restart on your PC, you can start it manually from the "Advanced" menu. If this also fails, use the Ctrl+Alt+Delete keyboard shortcut to restart your computer, or select one of the displayed options.
Desktop Icon Spacing is free to use and doesn't require activation.