Detailed settings of Start Everywhere can be specified in the Settings Panel, which can be launched from the Settings menu.
General - Active Corner Size: The horizontal and vertical dimensions of Active Corner can be specified in pixels. If the mouse pointer hovers over an enabled Active Corner, the menu system of Start Everywhere is displayed.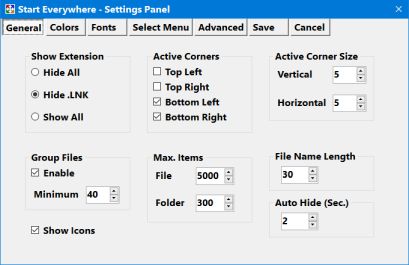 General - Group Files: If it is enabled, and the number of files to be displayed for the given menu reach the specified item number, it sorts menu items in alphabetic order.
General - Max. Items: If the number of item for the given menu reach the set value, they won't be displayed.
Colors - Custom: The colors of Custom theme can be set. The basis of the setting can be selected from the Base list. Changes only apply to the Custom theme.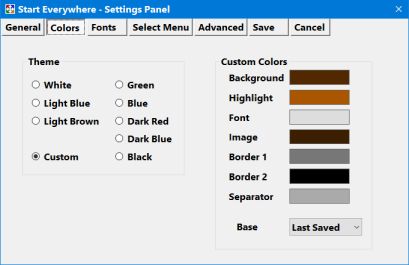 Fonts: In the Others - Size menu, the type and size of fonts can be set. You can also set the size of menu item icons.
Select Menu: Displayed menu items can be selected. If you select Custom 1-8, a Change tab appears. In the case of Custom items, you can set the access path and also enter name of the menu item.
Advanced - Hotkey: Hotkey settings. In None is selected, the hotkey is disabled. At least one of the Alt/Control/Shift/Windows modifier keys is always selected.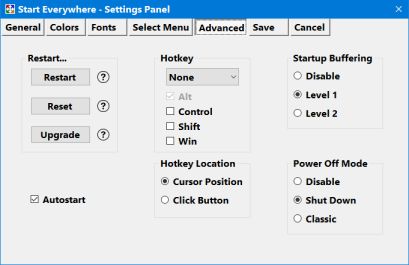 Advanced – Startup Buffering: If it is enabled, upon starting the program Start Everywhere buffers the icons of menu items for faster operation. Level 2 carries out buffering from multiple sources, so the software is launched a bit slower. If it is disabled, buffering occurs when you open the menu items for the first time. The first opening may sometimes be a bit slow. Further openings are fast. When setting up autostart, you should select Level 2.
The settings of the Settings Panel are only applied after Save.