Start Everywhere is a Start Menu software which offers several unique solutions to enable you to launch applications installed on the computer and quickly access documents. The appearance, operation and management of Start Everywhere can be flexibly customized.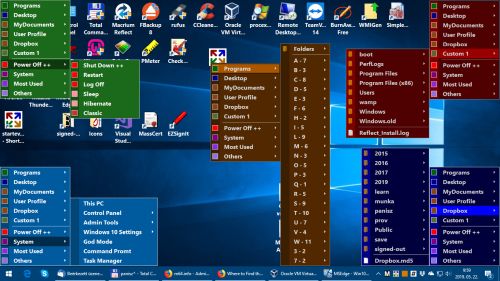 Advantages of using Start Everywhere:
It provides efficient access to installed applications, documents and computer settings.
It puts long lists in alphabetic order, and also enables you to sort them by date.
The menu system of Start Everywhere can be displayed anywhere on the screen, even in a multi-monitor environment.
In addition to the conventional, click-based access, the menu system can also be accessed with active corners and hotkeys.
The operating system can use its own Start Menu and other Start Menus at the same time.
The display, color and size of menu items can be set flexibly.
The number of menu items and their starting folder can be set.
Frequently used Start items can be accessed in the Most Used menu.
It doesn't require installation, supports 64-bit Windows 10/11 operating systems (Experimental 32-bit version), free to use.
Please use the left taskbar alignment on Windows 11!
(Settings - Personalization - Taskbar - Taskbar behaviours - Taskbar alignment - Restart app)
Review and Usage: