If you are using DMAML on a single monitor system, the software will run in demo mode. The demo mode allows you to study and test the software, but the mouse cursor lock is disabled.
If you have a single-monitor system and want to try out the full functionality of DMAML, this software [spacedesk] allows you to create a virtual monitor from your phone or tablet. Windows 10 and 11 recognize the virtual monitor as a fully-fledged second monitor.
I did not develop the spacedesk software and I am not affiliated with them in any way. However, I have used it for several years to perform certain tests and I am satisfied with it. Spacedesk is free to use [2023-01-12].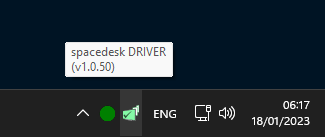 spacedesk and DMAML - Windows 11