myProcesses is a versatile process manager software. It enables process-level monitoring of various computer processes, as well as carrying out actions related to the setting, registry, and management of individual processes.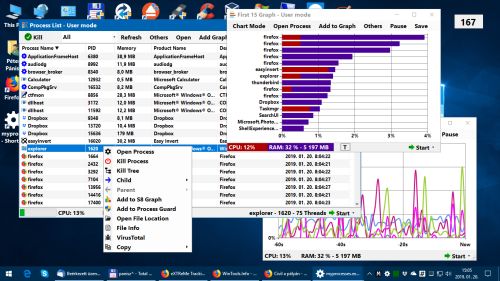 myProcesses is an integrated unit of components crucial to process management:
A counter continuously displays the current number of processes, and the menu allows quick access to individual processes to carry out additional actions. The System Tray icon also provides this menu.
Process History lists the most important data of both currently running and stopped processes in clear, table format.
Process List displays the currently running processes according to several grouping options, and makes direct process actions possible.
First 15 Graph continuously monitors the system according to CPU/memory usage, and displays the results in a graph.
Selected 8 Graph displays the CPU usage of selected processes in a graph.
Process Guard sends a warning when selected processes are started and ended, as well as automatically prevents them from running.
CPU Stress stresses the system according to preset parameters.
Process Bomb starts a predefined number of processes.
Warning! Using myProcesses requires basic competence, and focused attention. The software is capable of promptly stopping system processes and user programs. In case of inappropriate competence, data loss or unstable computer operation may result. Use myProcesses at your own risk!
The Process Bomb component provides a great opportunity to get to know the software, and to test the effects of individual process actions.
Advantages of myProcesses:
An integrated unit of several components useful for process management.
The components for individual functions provide a great deal of interoperability, enabling efficient work.
When running in the background, the software has very low system load.
Data acquisition and crucial functions run in the background, without displaying individual windows.
The software requires no installation, is free to use, and supports Windows 7/8/10 operating systems.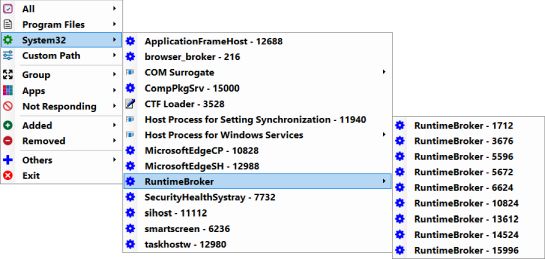 System Processes

New Processes