Precise CPU Stress can stress the system in an adjustable and variable level based on CPU and RAM usage. Resource usage is displayed on a graph. The software can analyze the internal processes of the computer, and provides a good basis for performance and stability tests as well.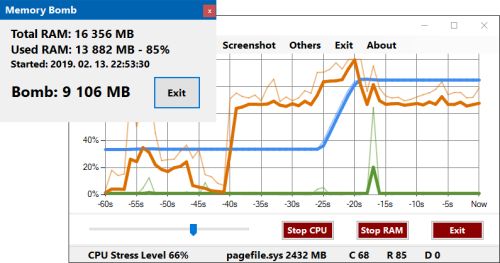 The idea of Precise CPU Stress is based on the CPU Stress component of the myProcesses software, and can be regarded as an upgrade of it.
The software continuously displays the stress levels of the computer's fundamental resources (CPU, RAM, Disk) for the last minute with a resolution of seconds. The current size of pagefile.sys is shown at the bottom of the window.
CPU stress can be started with the Start CPU button. The CPU stress level can be changed any time. The Stop CPU button stops the stress test.
The Exit button, the Exit menu and the ESC button immediately stops any stress tests, closes each window and closes the program.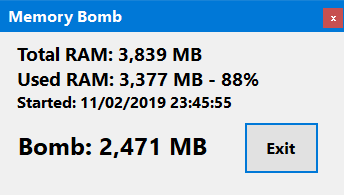 RAM stress can be started with the Start RAM button. A new window called Memory Bomb appears. Memory Bomb starts a RAM stress test based on the level set in the RAM Stress Level menu. In the Memory Bomb context menu (Next Level), the RAM stress can be increased by a further 5%, to a maximum of 95%.
Precise CPU Stress supports Windows 7/8/10/11 operating systems.
In case of a 32-bit operating system, RAM stress is not supported.
Free to use.
Doesn't require installation.
Use the software at your own risk!