The Firefox Download Tool is used for downloading different versions and language variants of the Firefox Internet browser. By default, the software always downloads the most recent version; however, selecting older versions versions is possible as well. Furthermore, the tool can be used for selecting the language variant of Firefox and deciding between the 32-bit and the 64-bit version.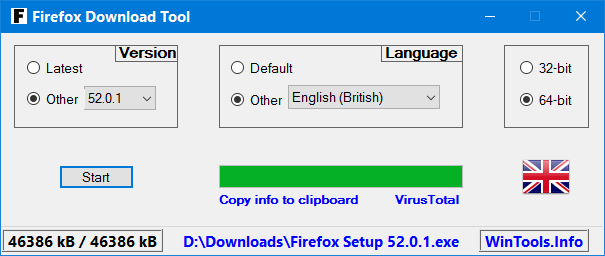 Information related to the selected Firefox version is displayed in the lower part of the window. Download is started by pushing the Start button. The progress bar provides information about the state of the downloading process. If the download is successfully completed, the Firefox installation file appears in the indicated directory. The text in the lower part of the window becomes active and turns blue. It can be used for initiating the installation of the downloaded file.
The Copy function displayed below the progress bar is used for copying the following information related to the downloaded file onto the clipboard:
Information related to the Firefox version: version ID, language, 32-bit or 64-bit
The file name and path
The download URL
The MD5, SHA1 and SHA256 information required for checking the integrity of the download
The text 'VirusTotal' used for directly checking the downloaded file for virus protection. This function works properly only if the related file has already been added to the Virus Total database. If the file in question has never been checked before, it can be uploaded for free at any time. After the file is uploaded, the Firefox Download Tool will load the appropriate Virus Total page.
The program is free to download and use. It supports Windows 7/8/10 operating systems.