Before using the software, be sure to scan the downloaded extgmode.exe file with VirusTotal! Please verify the digital signature of the file. If you do not trust this software, please do not launch it, and delete the file from your computer.
Extended GodMode only displays settings that are included in the operating system. The available settings can fundamentally change the way your computer works. It is strongly recommended that you change the settings only if you understand exactly what the setting applies to and what the consequences are.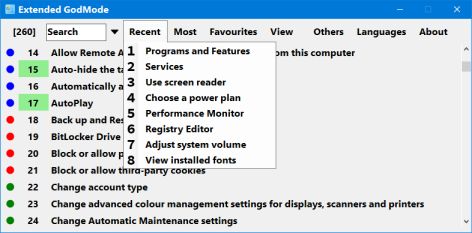 The contents of the "Recent" and "Most" menus are created automatically according to the setting items launched from the software. These two menu items show the most recently launched and the most used items, respectively. Items in the "Favourites" menu can be added/removed manually. These menu items appear in alphabetical order. These three menus are also available from the system tray icon menu.


The search engine immediately lists the results according to the characters you type. With the help of the small icon next to the search box, the current search can be saved and searches already saved will also appear here. The "Saved Searches" menu of the system tray icon is filled with content corresponding to the saved searches. These menu items are arranged in the order of saved searches, while the submenus are arranged in alphabetical order.
After manually updating the software, the "Upgrade and Restart" menu copies the settings of the latest version, then restarts the program.
Extended GodMode is not an installed application, so it does not appear in the list of installed software. Uninstallation steps:
If autostart is enabled, please disable it.
Quit Extended GodMode
Delete the extgmode.exe file
Restart your system