Extended GodMode is a utility for easy and quick access to system-level settings. The software is based on the GodMode function of Windows operating systems and complements their capabilities in several ways.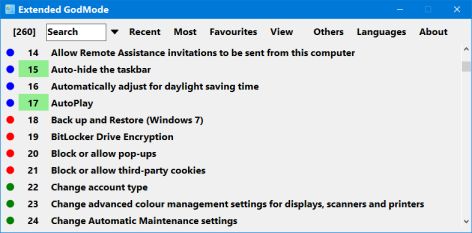 The original GodMode contains more than 200 items, depending on your configuration and operating system version. Extended GodMode complements these functions with the Admin Tools and Control Panel elements. It displays all setting options in a single interface and allows access to them grouped in several ways according to different criteria.
Extended GodMode also includes a powerful search engine. Individual searches can be saved to create groups of settings.
Extended GodMode supplements default GodMode with the following features:
Quick search by item name
Searches can be saved
Manage favourites
Display recently used items
Display of most used elements
Integration of Control Panel and Admin Tools elements (can be disabled)
Quick access to each setting item from the software system tray icon menu
Extended GodMode supports 64-bit Windows 7/8/10/11 operating systems [32-bit beta version]. The software can be used free of charge, no install is required.