Explorer Commander is a two- or four-panel file manager software. It enables a fundamental part of Windows operating systems, namely File Explorer to work similarly as professional file manager programs, while retaining the advantages of File Explorer.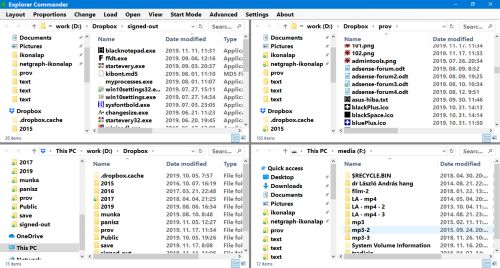 Properties of Explorer Commander:
Two- or four-panel layout
Horizontal or vertical layout in case of two-panel mode
The display proportion of panels can be set
The place of panels can be swapped
The content of panels can be opened in File Explorer
When started, it opens with the libraries which correspond to the last exit or the saved state
It supports dark/light theme under Windows 10
It can also run in the background
Doesn't require installation
It supports Windows 7/8/10 operating systems
Be sure to read this description before using the software.