After opening Win10 All Settings, the application's icon appears on the system tray. The icon provides access to the main menu.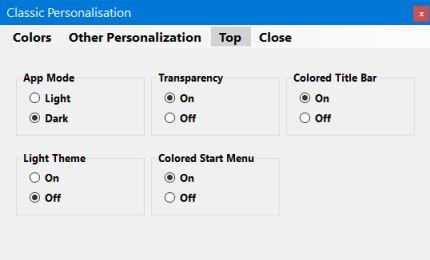 Classic Personalization provides an alternative interface for performing various personalization settings. Windows 10 includes some of the options of Classic Personalization for compatibility with previous Windows versions. Other settings can be performed with Registry operations. All the information about Classic Personalization settings is available to everyone on Microsoft's websites.
In the built-in settings of Windows 10, there is no option to change the color of Inactive Title Bar. With Classic Personalization, it is easy to change this setting in the Colors - Inactive Title Bar menu.
Clicking the application's icon displays the item selected in the Options panel Clicked Item group. When opened from the main menu, the Control Panel is displayed according to the display mode selected in the Control Panel View group. If the Simple Windows Settings Menu is selected, the Windows Settings menu of the main menu won't contain the settings groups.
Important! Before using the software, creating a data backup is highly recommended. Use the software at your own risk!